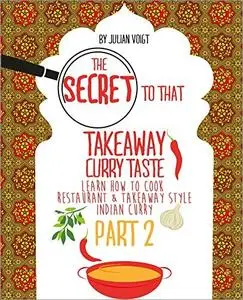 The Secret to That Takeaway Curry Taste Part 2: Learn How to Cook Restaurant & Takeaway Style Indian Curry (Volume 2) by Julian Carl Voigt
English | November 23, 2015 | ISBN: 1519490674, ASIN: B01AYGCMUA | AZW3 | 146 pages | 2.2 MB
Enjoyed Part 1? Now take your curry cooking to the next level with this follow on to the Amazon best selling book - 'The Secret to That Takeaway curry Taste.'
The Journey continues but this time with Julian's student, Adey Payne, on board. Adey, having learned the fundamentals to BIR curry recipes from Julian, promptly sold his chain of Burger vans and opened his own Indian Takeaway - following his huge success in being rated No. 1 on Trip Advisor in the Boston area for curry - "not bad for a white guy from South London." He decided to share what he learned in this new book from Julian Voigt.
Adey shares the knowledge he gained from his 2 Bengali Chefs Abdul & Sultan. In this book you will find all those curry house recipes that you know and love - everything from Murgh Nawabi to Lamb Karahi. In this book Julian shares his own love of Pakistani curry and shares some delicious Pakistani recipes that according to Julian are amongst the tastiest curries to be found anywhere!
This book is not just another curry cookbook but is much more than that - this book explains why having the right curry recipes are only half of the equation and that in order to create REAL Indian restaurant quality curries you have to use the same cooking techniques that the professional Chefs do. Julian & Adey reveal the tricks, tips and techniques that empower you to cook curry just like the professionals.
If you liked Julian's first book then you are going to LOVE this follow on! In this book you have more than double the recipes that were in the first book, not to mention the video tutorials that accompany the book - in this new book there are 27 new video tutorials where Adey & Julian actually demonstrate what they explain in the book. If you really want to master BIR curry, then this book is the one for you! Adey reveals his incredible kitchen shortcuts - in fact he shows you how, with his famous Korma sauce, you can cook a Chicken Korma in only 4 minutes!