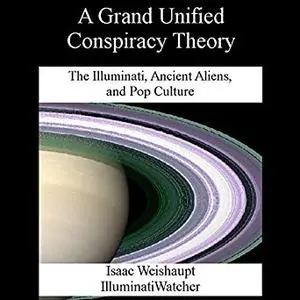 Isaac Weishaupt, Eric Burns (Narrator), "A Grand Unified Conspiracy Theory: The Illuminati, Ancient Aliens, and Pop Culture"
ASIN: B01E5VMVT2 | 2016 | M4B@62 kbps | ~07:19:00 | 200 MB
This is a comprehensive beginner's guide to all things conspiracy! Learn how to decode Illuminati symbolism that's hidden in plain sight with the help of an expert in spotting occult secrets. Conspiracy theorists like David Icke got you confused? Wondering how a reptilian can live among us and shape shift in and out of our dimensions? Are your favorite entertainers part of a transhumanistic alien agenda with mind control signals coming from Saturn and the Moon?
This is a culmination project of several years of research and taking notes on taboo and fringe subjects from various theorists, philosophies, and academic walks of life. I'm a website publisher for conspiracy theories and the exposure that I've had to these topics gives me a fresh perspective and clarity of these sometimes confusing and offensive topics. I focus a lot of the material on the philosophy of David Icke, so if you wanted an independent third party assessment on why he thinks reptilian shape shifters control our planet (and why he could be correct), this is the book for you!
I explore links between all of the Illuminati conspiracy theories, the music, film, and entertainment industry's infiltration, and brainwashing symbolism found in all of these venues (e.g. the All Seeing Eye, pyramids, etc.). Ancient cultures, Nazis, and occult worship still play a key role in today's control system, and I provide insight into these topics, including a review of the controversial documentary of Princess Diana's murder - Unlawful Killing. More original theories are presented including Rihanna's occult origins, David Icke's Saturn and Moon Matrix, and my scholarly approach to the Agenda with the Adaptive-Innovation theory. Join me as we journey to the dark recesses of many conspiracy theories and the symbolism we're subjected to by the music, film, and television industries!