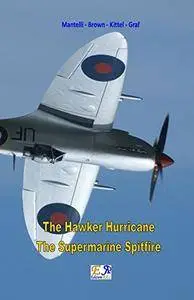 The Hawker Hurricane - The Supermarine Spitfire by Mantelli - Brown - Kittel - Graf
English | 6 Mar. 2017 | ASIN: B06XFRB5NQ | 155 Pages | AZW3 | 1.39 MB
The Hawker Hurricane was the first modern British fighter before the outbreak of World War II. Until 1941 the Hurricane was the most widely used combat aircraft from the Royal Air Force and the one that bore the brunt of the first clashes with aircraft of the Luftwaffe in the skies of France and Britain. Almost 3,000 aircraft of this type were delivered to the USSR, for the law Rentals & Loans, but the Soviet pilots were generally very critical of the fighter Hawker, considered inferior, not only to the German fighters, but also its. First fighter monoplane of the RAF, the first aircraft equipped with eight machine guns, was the plane means available in greater numbers to counter the waves of attack by the Luftwaffe during the Battle of Britain. Available in twenty-six departments in the early summer of 1940, to August, there were thirty-two against nineteen Spitfire. Piloted by aces like Douglas Bader that made him a legend, the Hawker Hurricane Mk I, although less than the Bf 109-E, however, he proved to be a horse race, and especially at high altitudes could be more maneuverable and thus, to this, more suitable bomber hunter.
"His majesty the Spitfire".
This airplane is an air legend, a real brand, and his image is inextricably linked to the British victory in the Battle of Britain. It is one of the few, perhaps the only one, whose name evokes some images even in a profane things of historical aviation. Excellent defensive machine, heavily armed, very agile, climbing fast, but the lack of range and of sufficient load capacity has not helped in the war below. The Spitfire name was suggested by Sir Robert MacLean, director of Vickers-Armstrongs at the time, who called his daughter Ann "a little spitfire," a saying Elizabethan to indicate a person impetuous.