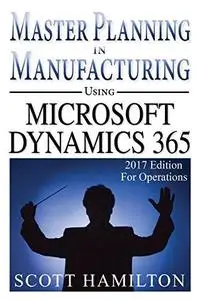 Scott Hamilton, "Master Planning in Manufacturing using Microsoft Dynamics 365 for Operations: 2017 Edition"
English | 5 Mar. 2017 | ASIN: B06XFZHV3F | 603 Pages | AZW3 | 9.49 MB
This book focuses on how Microsoft Dynamics 365 for Operations supports master planning to coordinate supply chain management (SCM) in manufacturing businesses. It covers the essential capabilities of master planning as well as additional considerations for different functional areas and different types of manufacturing. The intended readers are SCM professionals that need to learn the master planning capabilities for running a manufacturing business, and want to employ standard functionality as much as possible. With few exceptions, the book contents also apply to the previous software version of Microsoft Dynamics AX 2012 R3.