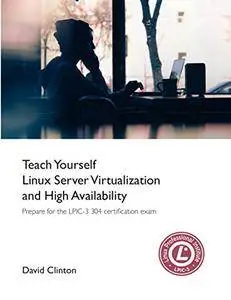 Teach Yourself Linux Virtualization and High Availability: prepare for the LPIC-3 304 certification exam by David Clinton
English | 23 Mar. 2017 | ASIN: B06XTZ4YWQ | 269 Pages | MOBI | 1.96 MB
High availability server virtualization currently powers the vast majority of public-facing compute deployments and Linux lies at the heart of nearly all of them. If you aren't already engaged in a virtualized project that touches some kind of Linux technology, you probably will be soon. What are you doing to build your skills to meet the future?
The Linux Professional Institute's LPIC-3 304 certification expectations are an excellent, vendor neutral introduction to Linux server virtualization and cluster management. Even if you don't have plans to take the exam and earn the certification itself right now, using the 304 as a curriculum guide is a smart move. And, one way or another, this book is a great primary resource.