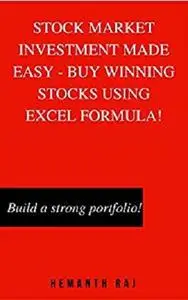 Stock market investment made easy - buy winning stocks using Excel formula!: Build a strong portfolio! by Hemanth Raj
English | April 1, 2017 | ASIN: B06XZS2MNB | 35 pages | AZW3 | 1.02 MB
I have been investing in the stock market for the past 25 years. I have always wanted to screen the stocks using simple mathematical formula and I have tried innumerable mathematical formulae over the past two decades. Among all the different combination of stock screening methods which I have used, I have found one exceptionally good method, which I have named as Unique Value (UV) stock screening method. Few of these stocks gave 300% return in one year, many of them gave over 100% return in one year.