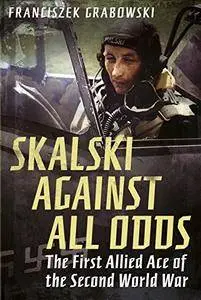 Skalski: Against All Odds by Franciszek Grabowski
English | 11 Jun. 2017 | ASIN: B071K6VFN7 | 306 Pages | AZW3 | 4.67 MB
Skalski-against all odds provides a gripping and detailed account on the career of General Stanislaw Skalski, VM & bar, KW & 3bars, DSO, DFC & 2bars, the leading Polish fighter ace. Skalski gallantly served from the first day of the Second World War, becoming the first ace of the conflict, and continued his service through the Battle of Britain, Channel offensive, Tunisian & Italian campaigns, and Normandy landings. He finished the war on staff positions. Returning to communist Poland, he was duly arrested on charges of spying on behalf of Great Britain, and sentenced to death. He was not executed, and after spending eight years in prison, he rejoined service, to fly MiG-15 jet fighters. He continued his service at non-flying positions, and following retirement, he was involved in popularizing aviation as well as in politics. The story is based on a number of documents, many of them published here for the first time and in most cases previously unavailable to the English reader.