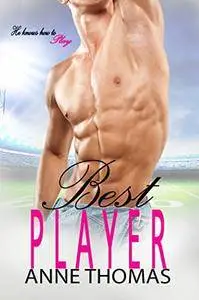 Best Player: A Romantic Comedy Series (Dreaming of Book 1) by Anne Thomas
English | 2017 | ASIN: B072F3MZB4 | 299 Pages | EPUB | 264.43 KB
Aside from the odd thing, Nerys Powell mostly bumbles along in life quite content with the way things are. She loves her friends and her family (most of the time) and she's not really looking for anything else. And then there's one school trip to France and wham, suddenly, she's got everyone's attention because she hit Billie Winters, star of the Year 11 basketball team and Head Boy. But as she starts Year 10, more problems pile on top of the first one - she's got a crush on the school's Hungarian heartthrob, Antal Kiss, is busy warding off the unwelcome advances of the Cardiff new boy, Glyn, and the most popular boy in her school year, Adam, seems to want to be her friend, for reasons unknown. What was supposed to be a fairly uninteresting school year has suddenly turned into the most eventful one you can possibly imagine. Suddenly, Nerys is thrust into the limelight, and it's certainly not something she wants. But hey, things can only get better…Right?