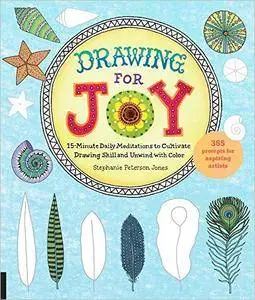 Drawing for Joy: 15-Minute Daily Meditations to Cultivate Drawing Skill and Unwind with Color–365 Prompts for Aspiring Artists by Stephanie Peterson Jones
English | July 1, 2017 | ISBN: 1631592955, ASIN: B072Z5JJH2 | AZW3 | 144 pages | 13.7 MB
In Drawing for Joy, author and illustrator Stephanie Peterson Jones offers beginning artists a low-stress way to build a successful daily drawing practice in just 15 minutes a day. The accessible series of 52 week-by-week exercises, each with 7 drawing prompts or starts, teaches readers how to draw by exploring line, texture, pattern, and color.
The book begins with basic information on the required materials for completing the exercises and essential techniques and strategies for coloring your creations. The exercises start with a focus on simple shapes such as circles, squares, and other geometric textures, then progress gradually toward creating more realistic motifs, including florals and other natural shapes, all built with line and pattern.