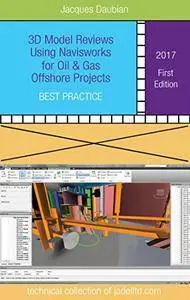 3D Model Reviews Using NavisWorks for Oil & Gas Offshore Projects: Best Practice by Jacques Daubian
English | 26 Jun. 2017 | ASIN: B073DPZ5L6 | 199 Pages | AZW3 | 2.61 MB
Drawing on his own experience within the engineering and construction field, Jacques Daubian presents 3D Model Reviews Using Navisworks for Oil & Gas Offshore Projects; an informative and educational read for professionals working with 3D models and participating in 3D model reviews.
The 3D model reviews are the particular moments during the project where the contractor and his client sit together to review the 3D model. This step is repeated a minimum of three times during a project and is imperative to the success of any oil and gas offshore project. It allows time for the client to make comments on the project thus far. Both the contractor and the client must spend time reviewing the 3D model and the participants must be qualified and efficient.
3D Model Reviews Using Navisworks for Oil & Gas Offshore Projects highlights the importance of the 3D model review stage in any project, reminding the reader to: – Avoid any delay during the construction – 90% of shop drawings will be extracted from your 3D model, for this reason the 3D model must be perfect – The cost of construction is a lot more important than the cost of engineering. You must spend time reviewing the 3D model – The goal is to safely deliver the project to the client field operation team.
Jacques Daubian also draws on his experience to demonstrate why the software Navisworks will assist projects in having quick and efficient 3D model reviews, allowing for accurate comments and feedback. Jacques also explains how NavisWorks allows for the easy creation of graphic and text comments. This book is not for the general reader; it is written to inform and educate those working within the engineering industry, specifically those using 3D models, operating the 3D software and those participating in the reviews.