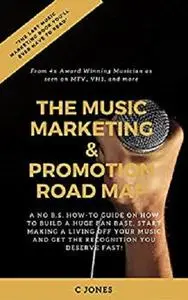 The Music Marketing and Promotion Road Map by C Jones
English | ISBN: N/A | ASIN: B073DZGC6H | 252 pages | EPUB | June 27, 2017 | 2,73 Mb
EVERYTHING YOU NEED TO KNOW TO LAUNCH AND CREATE A SUCCESSFUL CAREER AS AN INDEPENDENT MUSICIAN
​
WRITTEN BY 4X AWARD WINNING MUSICIAN AS SEEN ON MTV, VH1, FM RADIO, LEADING BLOGS AND MORE…
This book is a detailed account showcasing the exact methods and strategies the author used (and still uses) to go from zero fans, zero sales and zero recognition to building a brand, winning numerous awards, two record deals, being featured in the biggest magazines, touring with platinum artists, charting on numerous radio stations/charts, and more in only a couple of years.
Want to know how to chart on the radio for almost nothing? It's in there. The companies to use and all.
Want to know the secret behind winning awards? Its in there
Want to know how to reach out and build relationships with industry professionals? Its in there.
Need to know how to build your bio and press kit fast, get press, and start playing shows immediately for only a few bucks? Its in there.
Need to know the most up-to-date digital advertising strategies on FB, YouTube, and Instagram that build you a massive fan base? It's in there.
Need to know how to write ad copy and email series that generate sales?
Need to know how to get photos and videos done for almost nothing?
Need to know how publicity works?
Need to know how to create your super fans?
Need to know how to find and target your ideal fans and build a community of loyal followers?
ITS ALL IN THE BOOK!
Every step, every company used for marketing and promotion, everything is outlined in this book for you to copy and implement so you can duplicate the authors success. This is a no-holds-bared, how-to, crash course in todays music industry written by somebody who's in the business and getting results.
MARKETING * PROMOTION * ADVERTISING * FB ADS * TWITTER ADS * YOUTUBE ADS * AUDIENCE INSIGHTS *  PRESS * PR * RECORD DEALS * MANAGEMENT * AGENTS * RADIO * DIGITAL RADIO * COLLEGE RADIO * BOOKING * RELEASE STRATEGIES * ROLL OUT PLANS * AWARDS * NETWORKING * SOCIAL MEDIA * BUILDING YOUR FAN BASE QUICKLY * EMAIL MARKETING * STREAMING PROMOTIONS * ROYALTIES * DISTRIBUTION * MAKING MONEY * BRANDING *AND TONS MORE
The biggest problem with today's music courses and books is that they don't tell you exactly, step by step, how to accomplish your goals. And if they do, they only focus on one area, say FB advertising for example. None of these current programs or courses or books give a well-rounded picture of ALL the things it takes to make it as a musicians. They might teach you how to make money off email marketing, but they're not taking into account that people still want mainstream success. This book shows you have to operate as an Indi artist, do things yourself, make money as an indie, but at the same time gives you the resources and strategies to make a splash on the industry radar.