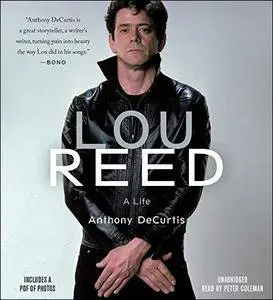 Lou Reed: A Life [Audiobook] by Anthony DeCurtis
English | October 5, 2017 | ASIN: B074P9K31B, ISBN: 1478955341, 1549167642 | MP3@64 kbps | 16 hrs 50 mins | 466 MB
Narrator: Peter Coleman
The essential biography of the Velvet Underground singer and New York legend.
As lead singer and songwriter for the Velvet Underground and a renowned solo artist, Lou Reed invented alternative rock. His music, at once the height of sanctity and perversity, transcended a genre, speaking to millions of listeners, inspiring a new generation of musicians and forever changing the way we think of that iconic era of sex, drugs, and rock 'n' roll.
Throughout his five-decade career, Reed embodied artistic self-awareness and captured the beauty, paranoia and vivacity of his time into an array of hit songs and experimental albums and a larger-than-life persona. With such masterpieces as 'Sweet Jane' and 'Walk on the Wild Side', Reed exerted an influence on popular music rivalled only by the likes of Bob Dylan and The Beatles, and he is recognised to this day as one of the greatest musicians of the 20th century.
Now, just a few years after Reed's death, comes the thrilling, provocative story of his complex life. An acclaimed Rolling Stone contributor, Anthony DeCurtis interviewed Reed extensively and knew him well. With unparalleled access to Reed's friends and family and dozens of other intimate relations, DeCurtis brings Reed's story compellingly alive and deepens our understanding of his indelible music.
We travel deep into the underground artist clubs, listen along in the studio as the Velvet Underground record their signature work and revel in Reed's relationship with legends like Andy Warhol, Patti Smith and David Bowie. Insightful, revelatory and intimate, Lou Reed is a gripping tribute to a quintessential American icon.