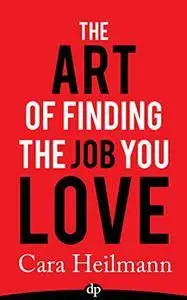 The Art of Finding a Job You Love: An Unconventional Guide to Work with Meaning by Cara Heilmann
English | 2017 | Self Help/Jobs | ASIN: B075M7KYL4 | 144 KB
Get Clear and Land a Job You Love
Do you want to do something new, maybe a little bit righteous? Do you see yourself leading a nonprofit, or healing mother Earth, or creating a medical device that saves lives in the remotest parts of the world? Does this career pivot feel like a left-turn from your current path? If you are like many job seekers, you've done a lot and can do a lot. But do you feel stuck?
Recruiters are struggling to see beyond your past job. Unable to see past your titles to your true experience. The job search process feels impersonal and shallow—hiring managers are making quick decisions without going deep. You want to articulate your skills and passion in a 60-second elevator pitch—but you want to do so without sounding scattered, or worse, desperate.
Cara Heilmann, CEO of Ready Reset Go™, has created a fresh, safe, and unconventional way to help you represent your amazing talents and passion to make a difference in this world, connecting the worlds of comedy and recruiting with a look behind the curtain of corporate recruiting to share what recruiters are really looking for. This book can help you craft compelling career stories and communicate it in a way that leaves them wanting more! You will discover:
Why the more successful you are, the more you tend to wing interview prep—and how that can work against you
How getting clear on your targeted job makes everything easier
How to create (at least) five riveting career stories that you should have in your toolbox
How you can connect with chemistry during the interview process—even if you are the most introverted introvert
How you can make a lasting positive impression that sticks well after you've left the interview room
Apply this process today and get the job of your dreams and make the difference in this world that you are meant to do.