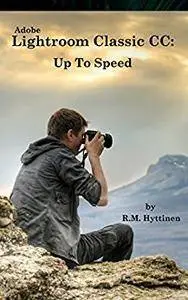 Adobe Lightroom Classic CC: Up To Speed by R.M. Hyttinen
English | 18 Feb. 2018 | ASIN: B079XX8BMY | 537 Pages | M/MOBI/EPUB/PDF (conv) | 100.15 MB
The Adobe Lightroom Classic CC Up To Speed guide helps you to get up and running quickly with Adobe's powerful photo editing and management system. This handy step-by-step guide is written from scratch, starting with basic Lightroom topics and moving on to more advanced features of the program, designed to help you to become more productive more quickly. Though comprehensive, the information in this book is presented in a clear, concise manner with screenshots providing helpful visual guidance all along the way.
In no time at all you'll be navigating Lightroom's interface, importing, rating, and filtering your photos, managing your photo library, making exposure and color adjustments, fixing common image problems, printing your photos, creating photo books and presenting your images on social media and the Web.
Creating a Lightroom Catalog
Determining Folder Organization
Setting Import Preferences
Importing your Photos into Lightroom
Switching View Modes
The Lightroom Interface
Using Grid View and Loupe View
Using Compare View
Using Survey View
The Module Picker
Setting Interface Preferences
Working with the Folders Panel
Creating, Renaming and Moving Folders and Photos
Renaming and Deleting Photos
Synchronizing Photos
Using Watched Folders
Rating, Flagging and Rejecting Your Photos
Labeling Your Photos
Rating & Ranking Groups of Photos
Filtering by Flag, Rating or Label
Using Dual Monitors
Adding Keywords and Metadata
Finding Images Using the Filter Bar
Sorting Images
Creating and Using Collections
Creating Smart Collections
Creating Quick Collections
Creating Collection Sets
Creating Collections from Folders
Using Face Detection
Geotagging Images with the Maps Module
Exporting to a Hard Drive
Creating a Watermark Preset
Publishing to an Online Service
Backing Up Your Lightroom Catalog
Using Multiple Catalogs and Multiple Computer
Merging Catalogs
RAW vs Non-RAW Processing
Choosing a Camera Profile
Viewing Before and After
Using Solo Mode
Creating Virtual Copies
Using Third-Party Plug-ins
Adjusting Image Exposure, Contrast, and Clarity
Adjusting Image Clarity
Adjusting Vibrance and Saturation
Using Clipping Indicators
Adjusting Shadows and Highlights
Adjusting the Blacks and Whites
Using Auto Tone
Reset an Image to its Default Settings
Adjusting White Balance
Changing Color in an Image
Converting an Image to Black and White
Using Split Toning
Using the Adjustment Brush
Using the Graduated Filter
Using the Range Masking Feature
Cropping a Photo
Straightening an Image
Using the Spot Removal Tool
Using the Red Eye Tool
Making Lens Corrections
Fixing Perspective Problems
Removing Haze with Dehaze
Adjusting Contrast Using the Tone Curve
Using the Histogram to Adjust Exposure
Synchronizing Adjustments Across Multiple Images
Using the History Panel
Creating Snapshots to Save Image States
Creating a Panorama
Using HDR
Soft Proofing your Images
Using Lightroom Mobile
Adding a Post-Crop Vignette
Working with Grain
Reducing Noise
Sharpening an Image
Using the Radial Filter
Creating a Slideshow
Creating a Web Gallery
Creating a Photo Book
Printing your Photos
And More…..