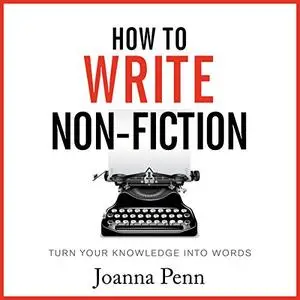 How to Write Non-Fiction: Turn Your Knowledge into Words [Audiobook] by Joanna Penn
English | June 6, 2018 | ASIN: B07DHSV9YW | M4B@64 kbps | 6h 12m | 169 MB
Narrator: Caroline Holroyd
Do you want to write a non-fiction book but don't know where to start? Or perhaps you worry that you're not an expert or have enough authority in your niche to write a book on it? Are you ready to help other people and change your own life with your words? The first non-fiction book I wrote changed my life. Sure, it helped other people, but mostly it altered the course of my life - so much so that 10 years later, I make a living with my writing.
In this book, I'll share everything I've learned along the way and save you time, effort, and frustration on your author journey. This book includes the business models of writing non-fiction, mindset issues around writing, the details of how to research, write and edit your book, dictation and productivity tips, as well as publishing, product creation, and marketing.