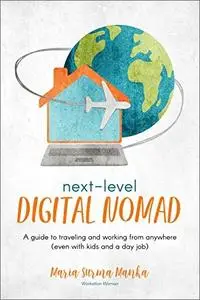 Next-Level Digital Nomad: A guide to traveling and working from anywhere (even with kids and a day job) by Maria Surma Manka
English | June 22, 2018 | ASIN: B07DYGR1KM, ISBN: 1983241431 | AZW3 | 92 pages | 1.7 MB
The stereotype of a digital nomad is someone young, unmarried, no kids and no mortgage. It's time to rethink that and take digital nomading to the next level!
Maria Surma Manka wanted to workation: to live and work abroad as a digital nomad temporarily without uprooting her entire life. No selling the house, no homeschooling the kids. She and her spouse had to keep their day jobs.
But she couldn't find any good resources to help guide a typical family on this adventure. So she did it herself, and the result was a workation: a blend of work + vacation that allowed her family to become temporary digital nomads. So far, they've workationed in Spain, New Zealand and the UK.
Next-Level Digital Nomad is the workation resource Maria wishes she'd had: A practical and tactical how-to guide that kick-starts your adventure and saves you dozens of hours of planning:
-Guidance for thinking through the trickiest questions, like asking your employer to work remotely, preparing for the kids' absence from school and where to find a place to work while traveling
-Loads of resources and ideas for creating your own workation
-Step-by-step worksheets for efficient planning
Next-Level Digital Nomad will give you the real-world tools to live like a digital nomad. Even with real-world responsibilities.