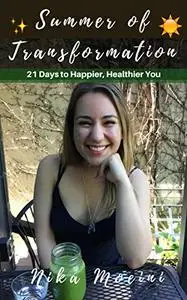 Summer of Transformation: 21 Days to a Happier, Healthier You by Nika Moeini
English | 2017 | ASIN: B07DZ3ZT9N | 39 pages | True AZW3 | 0.5 MB
I started the summer of 2017 in a negative place. I was depressed, anxious, and unhealthy. I decided to use the summer to really make a transformation in my life, as many decide to do. By the end, I had lost 30 pounds, uncovered my purpose, and started to really live in alignment with who I was meant to be. I took all those lessons and turned them into a 21 day guide, with unique exercises to complete each day to help facilitate this transformation in mindset in your own life.
This workbook is for the young woman who is ready to reconnect with who she is meant to be and wants to truly live to her fullest potential. She has a summer of fun planned, and finally the time she needs to start working on herself: her health, her mindset, her goals.
21 days is exactly enough time to ingrain something as a habit. When we take our goals and begin to turn them into daily habits, we can start to see some small changes in just a few days, and some truly transformational changes in just a few weeks.
This workbook is broken down into sections that focus on the following themes:
Mindset
Holistic and healthy eating
Relationships
My hope is that after completing the exercises in this workbook for 21 days, you can truly start to see some improvements in your life as well. Summer is the perfect time for transformation - are you ready for it?