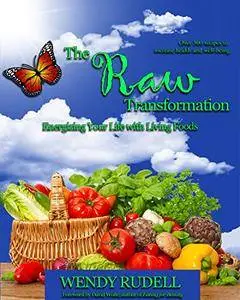 The Raw Transformation: Energizing Your Life with Living Foods by Wendy Rudell
English | 16 July 2018 | ASIN: B07FN4D5J6 | 291 Pages | PDF | 50.8 MB
According to Newsweek, "the raw foods movement is migrating from the margins to the mainstream." With celebrity endorsements from the likes of Alicia Silverstone, Woody Harrelson, Demi Moore, and Carol Alt, the raw foods diet is set to become more than just a fleeting trend. In The Raw Transformation: Energizing Your Life with Living Foods, author Wendy Rudell offers much more than just a cookbook, providing a complete lifestyle guide to the transition to a raw foods diet.
Rudell is a nutritionist with more than thirty-five years' experience in the field, and her visually stunning guide to going raw includes more than 300 recipes that are simple, diverse, and use readily available ingredients. In The Raw Transformation, she discusses the decision to go raw, as well as full-body health benefits, such as effective breathing and meditation techniques to be used along with the raw foods diet. An immensely helpful glossary describes ingredients commonly used in raw foods recipes, and a guide to resources and suppliers makes sure that all of the necessary tools are at readers' fingertips.
Some of the innovative and delicious recipes included are:
•Zucchini Torte with Mexican Creamed Corn Salad
•Papaya Salsa
•Arugula Walnut Blackberry Salad
•Chocolate Pineapple Squares
•Mango Pudding
•Cucumber Tahini Soup
"Wendy has taken the most delicious, nutritious food in the world and synergized it into individual living masterpieces of raw and living food cuisine. I believe that anyone can benefit tremendously from including Wendy's delicious recipes fin their diet, whether you've been a raw-food enthusiast for thirty years or never even heard of wheatgrass"
-From the Foreword by DAVID WOLFE, author of Naked Chocolate, Eating for Beauty, and The Sunfood Diet Success System
This visually stunning guide to going raw proves that it's possible to enjoy healthy food and great flavor. The more than 300 recipes in this book are simple, diverse, and use readily available ingredients. Based on the author's many years of experience as a raw-food consultant and chef, The Raw Transformation is more than just a recipe book. Wendy Rudell shares nutritional advice that includes the benefits of a raw-food diet, the how-to's of food combining, basic theory about preparing raw cuisine, and guidelines for making healthier choices. In addition, she introduces you to ways that you can achieve optimum vitality and health by integrating yoga, breath work, meditation, bio-energetic resonance, and quantum healing into a raw-food diet.
"Wendy's raw-food creations are as beautiful and simple as the life she lives. Walk with her joyfully into this wonderful world of live food and the consciousness it awakens. Her teachings and recipes will nourish your soul as well as your plate."
-SOPHIA ARISE, Transformational Breath Foundation teach and trainer, and former instructor at the Optimum Health Institute.
"Wendy's book is inviting, not only because of many colorful and mouthwatering photographs, but also for its gentle and motherly manner. Readers will feel welcomed to this way of healthy eating, rather than being pressured."
-VICTORIA BOUTENKO, author of 12 Steps to Raw Foods
Wendy Rudell, Doctor of Traditional Naturopathy and Integrative Medicine has more than 35 years in the health and wellness field. Along with her medical practice Wendy teaches yoga and classes in Raw food preparation and encourages others to increase their live food consumption for all the benefits mentioned here in her book.
Wendy is the owner of a beautiful ranch in southern Baja where she hosts wellness retreats.