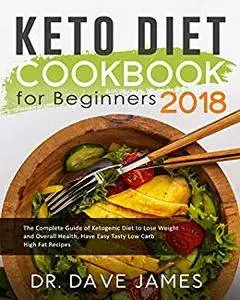 Keto Diet Cookbook for Beginners 2018: The Complete Guide of Ketogenic Diet to Lose Weight and Overall Health, Have Easy Tasty Low Carb High Fat Recipes by Dr. Dave James
English | 2018 | ASIN: B07G16N196 | 160 Pages | EPUB | 255 KB
Anyone is not very easy to have a new diet journey! As every diet has it's rules that people must comply with! If you want to have a Keto Diet, then you are reading the right book! This book will tell you all you need to know about how to get your optimum ketosis level and you will have many benefits in that state! If you are not familiar with Keto Diet, or want to know more, or if you want to have a ultimate guide of ketogenic diet, then you must have this book!