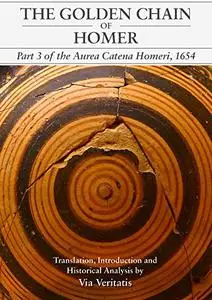 Moreh Derekh, Via Veritatis, "The Golden Chain of Homer: Part 3 of the Aurea Catena Homeri, 1654"
English | 2018 | ASIN: B07H2LT5RX | PDF | pages: 180 | 1.6 mb
Here is presented, for the first time in the English language, the much prized Third Part of The Golden Chain of Homer. It concerns an anonymous book associated with the same author as that of the famous and well-known Aurea Catena Homeri. In many respects it could be considered the most significant part. It presents a broad range of alchemical doctrines and practices for accomplishing various tinctures and philosophical products, both by the Long Way as well as the Short Way, either by an undetermined matter or by many determined matters from the metallic kingdom, all based on the solid foundations of Alchemy.
It should be noted that this is Third Part from 1654 is different than the version that was made available on the Alchemy Website.