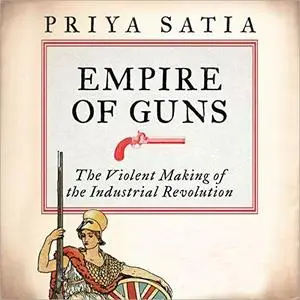 Empire of Guns: The Violent Making of the Industrial Revolution [Audiobook] by Priya Satia
English | November 3, 2018 | ASIN: B07HRWTW5L | M4B@64 kbps | 19 hrs 41 mins | 536 MB
Narrator: Tania Rodrigues
We have long understood the Industrial Revolution as a triumphant story of innovation and technology. Empire of Guns is a rich and ambitious new book by award-winning historian Priya Satia, which upends this conventional wisdom by placing war and Britain's prosperous gun trade at the heart of the Industrial Revolution and the state's imperial expansion.
Satia brings to life this bustling industrial society with the story of a scandal: Samuel Galton of Birmingham, one of Britain's most prominent gun makers, was condemned by his fellow Quakers that his profession violated their pacifist principles. In his fervent self-defence, Galton argued that the state's heavy reliance on industry for all of its war needs meant that every member of the British industrial economy is implicated in Britain's near-constant state of war.
Empire of Guns uses the story of Galton and the gun trade across the outermost edges of the British empire to illuminate the nation's emergence as a global superpower, the roots of the state's role in economic development, and the origins of our era's debates about gun control and the 'military-industrial complex' - that thorny partnership of government, the economy, and the military. Through Satia's eyes, we acquire a radically new understanding of this critical historical moment and all that followed from it.