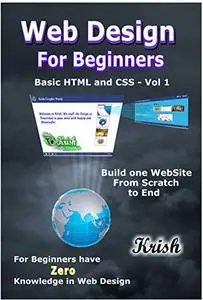 Web Design For Beginners: Basic of HTML and CSS Vol.1
by Santhana Krishnan V
English | 2019 | ASIN: B07WDYBH12 | 92 Pages | EPUB | 8.30 MB
Welcome to web design learning course. We appreciate you, for your interest to learn additional skill. Today web page is important to run a small business or to express our experience by Blog. This book is written for those who are having Zero knowledge in web design. For any learning we have to understand the system from basic, so that we can easily resolve any issue in future and easily understand any coding script. So we are not going to deal the Word press, Dream Weaver and other web design applications. Also we are not providing any Script file download package.