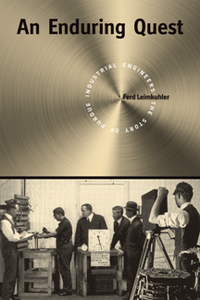 An Enduring Quest :
The Story Of Purdue Industrial Engineers, Kindle Edition
by Ferd Leimkuhler
English | 2019 | ASIN: B07Y5LW5M7 | 305 Pages | PDF | 9.6 MB
The process of industrialization that began over two hundred years ago is continuing to change the way people work and live, and doing it very rapidly, in places like China and India. At the forefront of this movement is the profession of industrial engineering that develops and applies the technology that drives industrialization. This book describes how industrial engineering evolved over the past two centuries developing methods and principles for the planning, design, and control of production and service systems. The story focuses on the growth of the discipline at Purdue University where it helped shape the university itself and made substantial contributions to the industrialization of America and the world. The story includes colorful and creative people like Frank and Lillian Gilbreth of Cheaper by the Dozen fame. Lillian was the first lady of American engineering as well a founder of Purdue's Industrial Engineering.
If you want to support my blog, then you can buy a premium account through any of my files (i.e. on the download page of my book). In this case, I get a percent of sale and can continue to delight you with new books!