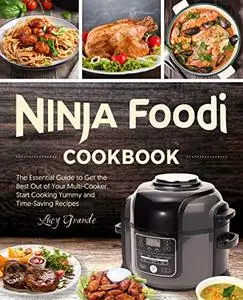 Ninja Foodi Cookbook: The Essential Guide to Get the Best Out of Your Multi-Cooker. Start Cooking Yummy and Time-Saving Recipes by Lucy Grande
2019 | ASIN: B082GGNSJJ | English | 274 pages | EPUB | 0.8 MB
Have you just bought your Ninja Foodi and don't know where to start?
Don't worry, we've got you covered.
You are about to enter the fantastic world of Ninja Foodi, the new and revolutionary way of cooking. You will be able to prepare new and tasty dishes, where you would not have even imagined that the food could be so tasty. From main dishes - pasta, rice, vegetables, meat, desserts, and snacks, in all ways and using only your Ninja Foodi.
The Ninja Foodi can sear and saute, slow-cook, steam-cook and so on. But it's also an air-fryer, and dehydrator meaning after you quick-roast that whole chicken. You can put a crispy finish on it, and keep it juicy and delicious enough to be applauded after the first bite.
But you will need a little help. Next to your multi-cooker, you absolutely must have this cookbook, a faithful companion that will not disappoint you, giving you a thousand satisfactions, for you your family and dinners with your friends, with hundreds of easy and yummy recipes.
In this book, you will find several easy and delicious recipes under different chapters such as:
Breakfast
Snacks/Sides/Appetizer
Main Dishes (poultry, meat, fish, pasta, grains, vegetarian)
Desserts
Make sure that your Ninja Foodi becomes your best friend in the kitchen, so you can impress family and friends, with no chef skills required!