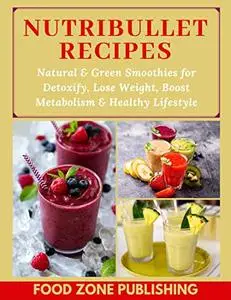 Nutribullet Recipes: Natural & Green Smoothies for Detoxify, Lose Weight, Boost Metabolism & Healthy Lifestyle by Food Zone Publishing
2020 | ASIN: B083K2JTMZ | English | 74 pages | EPUB | 2 MB
Simple Green Smoothies
Nutribullet smoothies are very powerful because it prepared from the raw & natural fruit and vegetables with all of the vitamins, minerals & nutrients they need in a very quick & delicious way.
Nutribullet recipes are simple and very easy to make, healthy, nutritious and tasty just like smoothies.All are best healing, rejuvenating, and energizing as well the most popular smoothies for weight loss.
In this book, I am providing you with information, about the health benefits and nutrients of the ingredients used in the recipes & direction to prepare the smoothies. Knowing the benefits of the ingredients will enable you to adapt the recipes to your needs and taste, you can put your Nutribullet to work in your diet plan!
For those of you wanting to lose weight, want to feel energetic and healing our body
Complete Recipes
Nutritional Fact
Imperial & metric measurements
Cooking Time
Serving Size
Ingredients
Nutrients
Nutribullet Recipe Book concentrates on seven main areas of smoothie recipes:
Healthy Heart
Detoxification
Weight Loss
Radiant Skin
Energy Boost
Anti-Aging
Super Foods