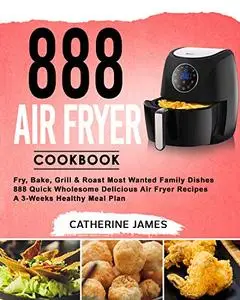 888 Air Fryer Cookbook: Fry, Bake, Grill & Roast Most Wanted Family Dishes| 888 Quick Wholesome Delicious Air Fryer Recipes| A 3-Weeks Healthy Meal Plan by Catherine James
2020 | ASIN: B083V2VKDN | English | 384 pages | EPUB | 0.6 MB
This book will act as a guide on how to prepare most of your favorite meals that will not only be healthy but also packed with texture and flavor. Now most of us might be thinking that air fryers are limited to cooking only, but in reality it is a multipurpose device as it can fry, roast, grill, and bake delicious, mouth-watery meals.
And as such this book offers a various set of recipes, you will find 888 Air Fryer recipes, which are divided into some chapters. You will find breakfast, lunch, dinner, appetizers, desserts and snacks. You will find beef, pork, lamb, chicken, turkey, duck, fish, seafood, egg, vegan, vegetarian, salad, cake, etc. Everything you will find for your everyday meal!