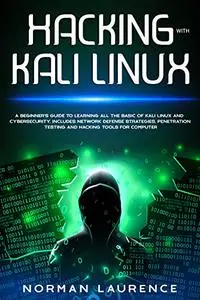 Hacking with Kali Linux: A beginner's guide to learning all the basic of Kali Linux and cybersecurity.
Includes network defense strategies, penetration testing and hacking tools for computer
by Norman Laurence
English | 2020 | ASIN: B0841D5LF2 | 142 Pages | EPUB | 7.52 MB
This book is going to teach you how hackers reason. Besides understanding the reasons why a hacker would target your computer, you will also get to know how they are able to do it and even how you can safeguard your systems, equipment, and network against hacking attacks. Keen readers will, by the end of this book, understand how their systems work, how to scan, and how to gain access to your computer.