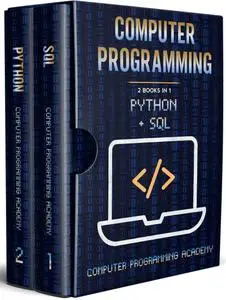 Computer Programming: 2 Books in 1: The Ultimate Crash Course to learn Python and Sql, with Practical Computer Coding Exercises
Computer Programming Academy | 2020 | ISBN: 979-8604270523, ASIN: B084GY2W1M | 364 pages | EPUB, PDF(conv) | 0.4 MB, 1.3 MB
SQL and Python are two of the leading tools in programming languages. More and more exciting career opportunities are based on data, but you don't need much commitment or cash to see if you have what it takes.
Computer Programming Academy is offering this 2 in 1 bundle - the complete guide of learning the fundamentals of Python and SQL. It is an ideal introduction to this data world.
It's no secret that many jobs will be eliminated in the near future. While that reality may be difficult to digest, it's also believed that the most responsible party — namely automation — will lead the way in a golden age of opportunity. That's because there will be a tremendous need for people who are capable of programing all those new systems. And, the language of choice for machine learning software are Python and Structured Query Language (SQL) which, as it happens, are the perfect first languages to learn.