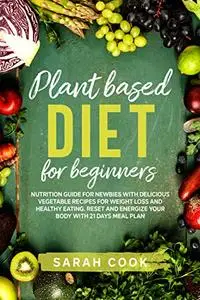 Plant based diet for beginners: Nutrition Guide For Newbies With Delicious Vegetable Recipes For Weight Loss and Healthy Eating. Reset and Energize Your Body With 21 Days Meal Plan
By Sarah Cook
2020 | ASIN: B084JQ4PQD | English | 271 pages | EPUB | 0.9 MB
A plant-based diet brings a number of different benefits, including preventing the risk of heart disease, diabetes and obesity.
Understand the benefits of a plant-based diet is the first step towards a better lifestyle, so learning what you can eat and what you must avoid can really change all aspects of your life. Be more active, feel healthier and burn fat while following simple steps.
Among other things, in the plant-based diet for beginners you'll find:
What a plant-based diet is
The difference between macro and micronutrients
Slow and fast recipes for your meals
Tips for beginners
Basic shopping list
21 days meal plan
…and more!