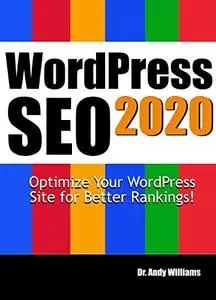 Wordpress SEO 2020: Optimize Your WordPress Site for Better Rankings!
by Dr. Andy Williams
English | 2020 | ASIN: B0866293G1 | 208 Pages | PDF,EPUB | 9 MB
Wordpress SEO 2020 is an up-to-date book that will teach you how to optimize your Wordpress website for Google and other search engines. Wordpress is a fantastic platform for building websites, but can produce a lot of SEO challenges. Most notable is the duplicate content issues that can get your site penalized by the search engines. Create one post, add a few tags, and post it into a couple of relevant categories. All of a sudden you may have over a dozen pages on your site with the exact same article! But there is an easy solution to the duplicate content issues.