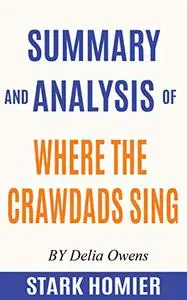 Stark Homier, "Summary And Analysis Of Where the Crawdads Sing By Delia Owens"
English | 2020 | ASIN: B0874FN79F, B0875XD21B | EPUB | pages: 46 | 0.2 mb
Summary And Analysis Of Where the Crawdads Sing By Delia Owens
Stark Homier offers an in-depth look into the popular novel by Delia Owens "Where The Crawdads Sing" so that you can appreciate the novel even more!
It contains many tantalizing sections such as :
-Chapter by Chapter Summaries
-Character Analysis
-Trivia Questions
And much much more!!
Download and start reading today!!
*note: This is an unofficial companion book to Delia Owens' popular novel "Where The Crawdads Sing"
-it is meant to enhance your reading experience and is not the original book.