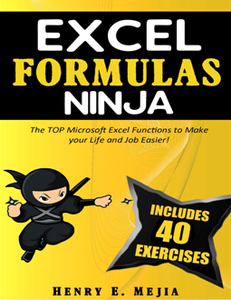 Excel Formulas Ninja : The Top Microsoft Excel Functions to Make your Life and Job Easier! Vlookup, If, SumIf, Xlookup and a lot more
by Henry E. Mejia
English | 2020 | ASIN: B088DJD532 | 113 Pages | PDF (conv) | 1.62 MB
Using excel formulas is an unbelievable advantage because you can get more things done, investing less time in front of the computer. There are a lot of Excel functions like: Vlookup, Xlookup, IF, Sumif, CountIf, Concatenate, Round, Index Match, etc., and with this book it will take no time to master the TOP FORMULAS.
DIFFERENTIATION FACTORS OF EXCEL FORMULAS NINJA
A Straightforward and No Fluff Excel Guide! Save time, learn more.
Entertaining Excel Training
Full of screenshots and Formulas and Functions examples
Includes for free 40 Practice excel spreadsheets
You will learn to use a lot of Formulas on excel in many different ways
You will learn quickly and in an easy to understand way. At the end of the book you will become an Excel Formulas Ninja with this practice workbook.
Gradually increases your knowledge level
THIS BOOK IS FOR YOU IF YOU WANT TO:
Understand once and for all How to use the Top Formulas in excel like a Pro
Save time at your job and perform better
TOPICS ALSO COVERED IN THIS BOOK:
Absolute and Relative References
Nested Functions
If you want to support my blog, then you can buy a premium account through any of my files (i.e. on the download page of my book). In this case, I get a percent of sale and can continue to delight you with new books!