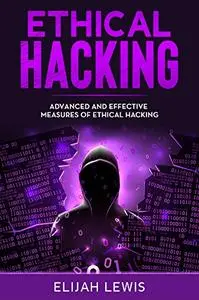 Ethical Hacking: Advanced and Effective Measures of Ethical Hacking by Elijah Lewis
English | 2020 | ASIN: B088F41N6N | 120 Pages | PDF/AZW3 | 4.96 MB
There is a general belief that all hackers are the equivalent to cybercriminals. This belief is partly as a result of the growing rise in the damage that hackers are causing to computer systems and business organizations. However, this book aims to counter that belief. Hacking is a broad term that is used to describe the work of the ethical hacker and the black hat hacker.
This book provides a comprehensive explanation of the work of an ethical hacker. It starts by explaining the term "hacking" and the different types of hacking. Ethical hacking is a type of hacking, and the ethical hacker is someone who is versatile in hacking but uses his or her knowledge for the benefit of the business organization or the individual. Ethical hacking is observed from the three major aspects of hacking