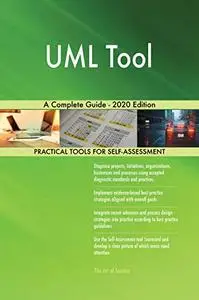 UML Tool A Complete Guide - 2020 Edition by Gerardus Blokdyk
English | 2020 | ASIN: B088SZ8XWV | 107 Pages | PDF | 1.07 MB

Do you need reverse engineering? Can you request a waiver of any requirement of the Code? What kinds of document are produced as a result of the requirement specification? What are the main problems involved in switching to Object-Oriented programming? How can costs and benefits be quantified?
This instant UML Tool self-assessment will make you the entrusted UML Tool domain adviser by revealing just what you need to know to be fluent and ready for any UML Tool challenge.
How do I reduce the effort in the UML Tool work to be done to get problems solved? How can I ensure that plans of action include every UML Tool task and that every UML Tool outcome is in place? How will I save time investigating strategic and tactical options and ensuring UML Tool costs are low? How can I deliver tailored UML Tool advice instantly with structured going-forward plans?
There's no better guide through these mind-expanding questions than acclaimed best-selling author Gerard Blokdyk. Blokdyk ensures all UML Tool essentials are covered, from every angle: the UML Tool self-assessment shows succinctly and clearly that what needs to be clarified to organize the required activities and processes so that UML Tool outcomes are achieved.