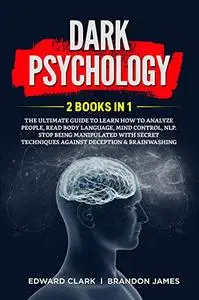 DARK PSYCHOLOGY: 2 Books in 1: The Ultimate Guide to Learn How to Analyze People, Read Body Language, Mind Control by Edward Clark
English | 2020 | ASIN: B088TVXF7Z | 296 Pages | PDF/AZW3/Kindle | 3.65 MB

2 Manuscripts in 1 Book

This Boxset Includes:
1. Dark Psychology and Manipulation
2. How to Analyze People
Do you want to master the skills to pick up on subtle social cues such as micro-expressions, body language, brainwashing, manipulation, persuasion, human psychology by becoming aware of the most effective techniques?
If you answered "yes," then this is the perfect, educational and informational book for you!
Dark psychology studies the parts of ourselves that none of us wants to recognize.
Dark Psychology tactics are used by people around us every day to manipulate, coerce, and influence us to get what they want.
This bundle opens the doors to the most well-kept secrets of our brain and way of thinking.