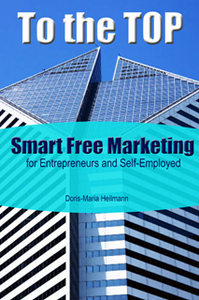 To the TOP : Smart Free Marketing for Entrepreneurs and Self-Employed
by Doris-Maria Heilmann
English | 2020 | ASIN: B08957T6XN | 184 Pages | ePUB | 0.84 MB
The motto of this helpful entrepreneur guide is "Marketing vs. Advertising".
Find proven and new tips on video and social media promotion, sweepstakes, e-commerce, podcasting, email newsletter, and influencer marketing, as well as free advertising on Google maps.
An important topic is content marketing: smart, low-cost, and truly one of the most successful types of business promotion. Customer Service is always the key to success. Learn how excellent customer service and a positive corporate culture will boost your success. This beneficial business guide book has been written through the eyes of a founder and a true entrepreneur.
It answers your question: How can I promote my start-up with little effort and a very small marketing budget? Hundreds of valuable links in the chapter 'Resources' will help to support your promotion efforts.
For whom is "To the TOP" especially useful?
Freelancers, retailers, small publishers, IT specialists, accountants, lawyers, artists, farmers, craftsmen, health specialists, and many more entrepreneurs and start-ups.
If you want to support my blog, then you can buy a premium account through any of my files (i.e. on the download page of my book). In this case, I get a percent of sale and can continue to delight you with new books!