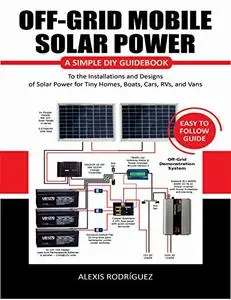 OFF-GRID MOBILE SOLAR POWER EASY TO FOLLOW GUIDE: A Simple DIY Guidebook to the Installations and Designs of Solar Power for Tiny Homes, Boats, Cars, RVs, and Vans
by ALEXIS RODRÍGUEZ
English | 2020 | ASIN: B08F3NBKKS | 106 Pages | EPUB | 1 MB
Off Grid Solar Power is a guidebook that teaches you the technical details of electricity from the simple form to an advanced level. It is intended to show beginners how to use a Mobile solar system to power their cabins, small apartments, and vehicles easily. You will learn the safe handling of electrical appliances and avoid electrocution and other hazards.