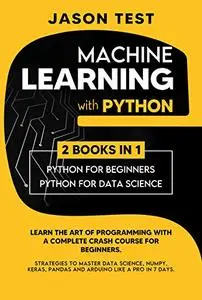 MACHINE LEARNING WITH PYTHON: Learn the art of Programming with a complete crash course for beginners by Jason Test
English | 2020 | ASIN: B08G8TCZLC | 146 Pages | PDF | 6.97 MB

Are you looking for a super-fast computer programming course?
Would you like to learn the Python Programming Language and machine learning in 7 days?
Do you want to increase your online business thanks to the web applications?
If so, keep reading: this bundle book is for you!
Finally on launch the most complete Python guide with 2 Manuscripts in 1 book:
1-Python for beginners
2-Python for Data Science
Python will introduce you many selected practices for coding . You will discover as a beginner the world of data science, machine learning and artificial intelligence.
I'd like to say that Machine Learning with Python can be complicated, and the whole concept of Data Analysis can be daunting to starters. You have to take time and study the whole concept before you start to be proficiency. But this book will be your guide: the following list is just a tiny fraction of what you will learn in this collection bundle.