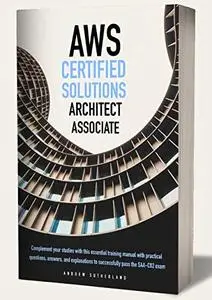 AWS-Certified Solutions Architect Associate: Complement your Studies with this Essential Training Manual by Andrew Sutherland
English | 2020 | ASIN: B08GL2L4SK | 95 Pages | PDF/EPUB/KINDLE | 1.73 MB

⚠ ⚠ ⚠ Are you one of those individuals who have been planning to get AWS certified? Do you wish to develop your business or career by having the skills to create scalable such as management tools, analytics services, and storage services? If yes, keep reading! ⚠ ⚠ ⚠
This book AWS-Certified Solutions Architect Associate: Complement your Studies with this Essential Training Manual with Practical Questions, Answers, And Explanations to Successfully Pass The SAA-C02 Exam is the answer to your concerns!
It is a bit challenging to accomplish the highest status in any organization. That's especially true if it's filled with competent, experienced, and super talented professionals. However, it's possible and straightforward if you have remarkable abilities such as AWS solutions architect, and have the necessary certificate to prove that.
This book is designed to provide you with an organized and detailed test-preparation regimen through a proven set of techniques and elements. Exam topic lists make referencing hassle-free and simple. This book will help you drill on the core concepts you should learn. By the end of this book, you will not only be ready to pass the exam but also to create reliable and secure applications.
This guide is suitable if you a Solutions Architect or IT wishing to pass the AWS Certified Solutions Architect Associate exam. This book is also ideal for developers out there who want to start developing scalable applications on AWS.