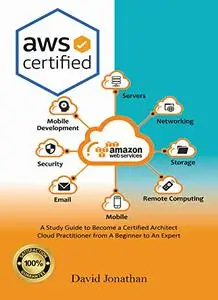 AWS Certified: A Study Guide to Become a Certified Architect Cloud Practitioner from A Beginner to An Expert by David Jonathan
English | 2020 | ASIN: B08GQB9PK1 | 158 Pages | PDF/EPUB/KINDLE | 2.53 MB

DO YOU DESIRE TO ACQUIRE PROFICIENCY IN YOUR CAREER AS A CERTIFIED AWS CLOUD PRACTITIONER?
Now, you can climb the rungs of your professional ladder with confidence by enhancing your skills in cloud computing and acquiring the AWS (Amazon Web Services) certification. Become a certified architect using this study guide written for cloud practitioners. It will help you to pass the AWS Certification Exam. Thousands of practitioners rely on this exam to acquire proficiency in the industry.
Exam CLF 101 is an entry-level examination designed for beginners to gain profound knowledge on the course. The information in this book can set you apart for success in this technology-driven career. All over the world, thousands of businesses and industries depend on this exam to certify the practitioners in their firms.
This handbook covers the necessary topics you need to pass the exam, including study guide questions.
Various Topics You can Learn Include
What is AWS Certification
Introduction to the Basics of Cloud Computing
Available Support Plans and How to Access Them
How to Operate AWS Account Using Cost Management and Billing System
The Ways of Handling Your AWS Resources
How to Understand the AWS Environment
How to Choose a Region
How to Change your Password
How to Get your Billing Information
How to Secure Your AWS Resources
Database Core Services in AWS
How to Automate Workloads in AWS
Handling Networking Core Services in AWS
Compute Core Services in AWS
AWS Core Storage Services
Exam Study Questions
And Many More…