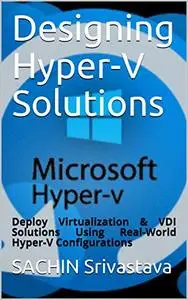 Designing Hyper-V Solutions: Deploy Virtualization & VDI Solutions Using Real-World Hyper-V Configurations by Sachin Srivastava
English | 2020 | ASIN: B08HQ7L9Z8 | 554 Pages | PDF/EPUB/AZW3/MOBi | 88. 2 MB

Deploy Microsoft Virtualization and VDI solutions using Real-World Hyper-V ConfigurationsThe latest server virtualization platform (Hypervisor) release from Microsoft, Windows Server Hyper-V, is not only economical and user-friendly but also a robust and resilient solution. Hyper-V is now one of the top contenders in the server virtualization area, and is already leading in some markets.This book is a handy and easy-to-follow guide that describes the concepts of virtualization and the Hyper-V design approach. Each topic is explained sequentially to help you build an understanding of Hyper-V and thereafter deploy a fully functional and robust solution, alongside a disaster recovery failover plan. I'm looking forward to all of you becoming Hyper-V experts!This book is intended for a wide audience. It is meant for IT admins and consultants who are either planning to adopt virtualization or migrate to Hyper-V as a suitable hypervisor platform. It is also for architects who wish to gain greater insights into the intricacies of the low-cost yet robust and reliable solution of Hyper-V.The book will train you on virtualization and Hyper-V. However, a working knowledge and experience in managing Windows Servers and a fair understanding of networking and storage concepts is expected here.Code words in text, database table names, folder names, filenames, file extensions, pathnames, dummy URLs, user input, and Twitter handles are shown as follows: "To keep things simple, we will refer to the location as C:ClusterStorage."