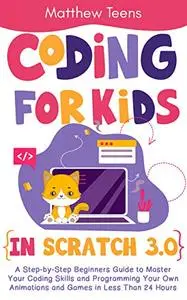 Coding for Kids in Scratch 3.0: A Step-by-Step Beginners Guide to Master Your Coding Skills and Programming Your Own Animations and Games in Less Than 24 Hours
By Matthew Teens
English | 2020 | ASIN : B08L19SLSZ | 77 Pages | EPUB | 4.7 MB
Scratch is the ideal introduction to programming for children of all ages! This step by step guide will teach kids the fundamentals of programming and how to create a variety of projects using Scratch 3.0.
Coding for Kids in Scratch 3.0 is an educational book that provides a solid understanding of common coding techniques and concepts that can be later applied when learning other programming languages like Python.
Kids will learn that programming is an exciting, creative activity, which can be fun to learn when using the most popular coding tool for children.
Start by gaining an understanding about how programs work and learn about other programming languages. Not all languages are created equally, and this book will give you a summarized explanation of how they work.
Next, learn the basic programming principles with step by step explanations using Scratch. This guide will show you how to install Scratch and how to set up your development environment. The sooner you start coding, the better.
What else is inside this book?
You will learn how to program by working on real projects. Create graphical elements, manipulate audio effects, create a story book, animate sprites, and develop games!
Computer coding for kids has never been easier or more accessible. Add Coding for Kids in Scratch 3.0 to your collection and begin your programming journey today!