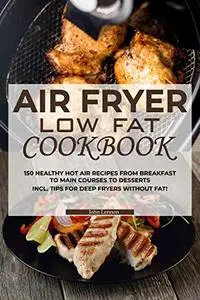 Air fryer Low Fat Cookbook: 150 healthy hot air recipes from breakfast to main courses to desserts Incl. Tips for deep fryers without fat by John Lennon
English | December 14, 2020 | ASIN: B08LCMF34Z | 192 pages | AZW,EPUB,MOBI | 5.05 MB
Get our air fryer recipe bookwith great dishes and lots of tips for deep-frying without fat!
Our 150 healthy recipe ideas are wonderfully easy to prepare and are therefore ideally suited for professionals, families and everyone who needs things to go fast in the kitchen!
WHAT THIS HOT AIR FRYER BOOK CONTAINS FOR YOU:
150 delicious meals for every occasion that you can cook with the air fryer without oil or with only a small amount of fat!
Recipes hot air fryer: Delicious breakfast | Main dishes with meat & fish | Low carb & dinner | Hot air fryer vegetarian & vegan | Sweet desserts & muffins | Fresh bread and much more!
In addition, our Airfryer book provides easy-to-understand instructions for the hot air fryer for beginners!
Healthy cooking has never been so tasty and simple: Discover the many options for low-fat& even completely fat-free hot air dishes. You can also benefit from simple and comprehensive instructions and great tips on the Airfryer device.