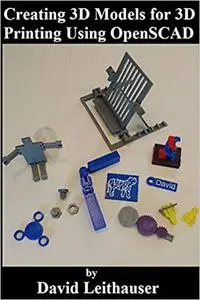 Creating 3D Models for 3D Printing Using OpenSCAD
By David Leithauser
English | 2020 | ASIN : B08M7JBHF6 | 219 Pages | EPUB | 20.6 MB
OpenSCAD is a totally free program that takes a different approach than most 3D design programs. Instead of drawing the object by hand, it lets you describe it by telling it to create a shape like a sphere, cylinder, box, etc. and position it at a certain location. You can then add objects, alter them by doing things like stretching them, cutting away portions, and other operations that give you considerable control of the final product, all by simply writing what you want to do with the objects. This allows for considerable precision. You can view the object you are creating at any time to see how it is going so far.In this book, I will take you through the process of creating 3D models with OpenSCAD in a step by step manner that you will find easy to follow. I will concentrate on the aspects that I find most useful for generating 3D models suitable for 3D printing. I will not get into aspects of OpenSCAD designed to make pictures or 3D movies, such as coloring objects or animation, unless they have some use as a modeling design tool.I will end the book with a series of chapters called the project section that describe how to make a variety of actual objects that you can use. These give you examples of how to put together the techniques I have discussed in the earlier chapters and also provide useful components like connectors and moving parts that you can incorporate in your own projects.