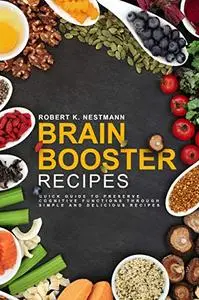 Brain Booster Recipes: Quick guide to preserve cognitive functions through simple and delicious recipes
By Robert K. Nestmann
English | ASIN : B08MYSW7XK | 2020 | 54 pages | EPUB |4.88 MB
Brain fog, afternoon slumps, and memory troubles don't have to be a fact of life.
With all the technology and resources of the 21st century, experts have discovered that nutrition is the key to keeping a well-oiled biological machine. Food does, in fact, happen to be medicine—but that doesn't mean it shouldn't taste good.
In this comprehensive educational cookbook, you'll learn all the dos and don'ts of strategic eating for neurological health. You'll also have access to over 20 recipes that put this wisdom to practice, as they're teeming with both rich, vibrant flavor and top-tier nutrient density.