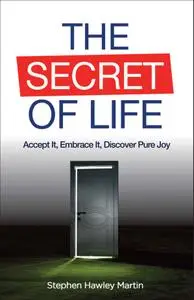 Stephen Hawley Martin, "The Secret of Life: Accept It, Embrace It, Discover Pure Joy"
English | 2020 | ASIN: B08N55W2YD, B08N3KQCRW | EPUB | pages: 161 | 0.2 mb
Only a tiny number of people at this time in history know the secret of life. Yet only those who grasp it and take it to heart are fully awake, which means most of us remain fast asleep. When we all wake up to the secret, the world will become a much better place. But that is more easily said than done. The secret is not difficult to understand, and it is an obvious truth to those who consider with truly open minds the facts set forth in this book. Nevertheless, the secret will likely be dismissed out of hand by those unwilling to objectively consider the evidence, and some will vehemently oppose it, perhaps subconsciously, no matter what. Why? Because they will see the truth as a personal threat.
However, once enough people know, understand, and accept the secret, old animosities will disappear. And what could be a more positive development in this highly partisan age? There can be no doubt that widespread knowledge and acceptance of the secret can create a bond of harmony and brotherhood among us that can lead to a new golden age.
Be among the first to know. Read this book and grasp the secret. Experience joy and the cessation of fear. Then actively encourage others to do the same.