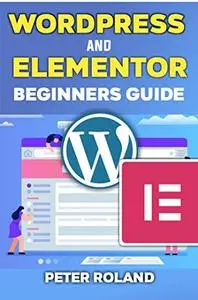 WordPress and Elementor Beginners Guide
By Peter Roland
English | 2020 | ASIN : B08NZZ21LX | 46 Pages | EPUB | 2.4 MB
Looking at the nature of things in this 21st century, new technologies are released, better methods are employed and life is made better. Do you know that the things that were trending some ten to twenty years ago are now gradually fizzling away, and certainly, those old methods will be no more in the coming decade? For instance, you can realize when marketing techniques are based on the traditional one-on-one advertising methods, the use of handbills and posters as well as TV shows and presentations. But today, the internet has been a great ease to these tiring marketing techniques. That is why I want to introduce you to a book that helps you build any website of your choice using the easy way —applying the Elementor plugin to build fascinating websites on WordPress platform.
This book — "WordPress and Elementor beginner's guide" — is aimed to give you the necessary exposure, ensuring that you are well conversant with the environment of WordPress, focusing more on the Elementor plugin of WordPress so that after all said and done, you'll emerge a pro in the use of WordPress to create any website and blog of your choice. It directs you on how to use WordPress and Elementor's WordPress Page Builder to create your website and walk you through the entire process with just a simple step by step detailed guide.
The author of this book is a Coding-Guru — well knowledgeable in many programming languages such as HTML, CSS, Javascript and so on, but when Elementor Ltd. released this fascinating plugin, he had to switch over to it leaving behind all the coding issues and stress that comes with it due to the simplicity of the plugin, making even anyone who has no prior coding knowledge to utilize it effectively. He has been instructing people in the past years, and his students have been creating one of the best and user-friendly websites in the world of web technology.