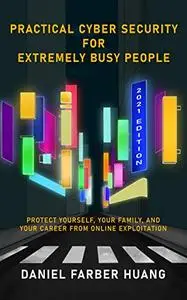 Practical Cyber Security for Extremely Busy People: Protect yourself, your family, and your career from online exploitation
By Daniel Farber Huang
English | 2020 | ASIN : B08P94H263 | 364 Pages | EPUB | 27 MB
This book was written to help protect every person who uses a computer, mobile phone or tablet. Cyber security is not only about protecting governments or companies from spies. It's so much more, and also so much more personal. Cyber security is about:1.stopping trolls from stealing you or your loved one's intimate photos and posting them online without your consent,2.protecting your family from bullies, predators, and stalkers,3.stopping thieves from draining your bank accounts or stealing your identity,4.preventing companies from secretly tracking your online activities because they want to make money off of you, 5.securing your home WiFi so hackers can't break in and steal your valuable personal information, 6.creating safeguards to protect both your expensive physical devices and the precious data and files within,7.stopping scammers from damaging both your home life and your career, and8.much, much more that protects innocent victims from online crime.Simply put, this book was written for You.You're busy. This guidebook is written clearly and concisely to get to the point. Real-life case studies will bring you into the mindset of both cyber criminals and victims to help you protect what's most important and valuable to you.Daniel Farber Huang is a strategic consultant and advisor on cyber security and other risk mitigation issues to a broad array of companies and organizations, ranging from entrepreneurial start-ups to multi-national corporations. He has worked closely with numerous federal, state, and local law enforcement agencies across the U.S. on providing solutions to their mobile technology requirements. Daniel has focused on providing hardware and software solutions to federal field agents, the police, and other authorities to support them in fulfilling their duties.In the year 2021, millions of people will continue working remotely or going to school either partially or completely to fulfill their responsibilities. The need for individuals to take proactive steps for personal cyber security is more important than ever. Practical Cyber Security for Extremely Busy People is designed to provide you with a clear, achievable action plan to:1.Secure your physical assets,2.Protect your personal data online and in the real world,3.Protect you from phishing attacks, malware, and other exploitation, and4.Defend you against targeted attacks by online harassers and trolls. This guidebook was written to help aware individuals like yourself make actionable steps to protect you, those you care about, and your career from cyber threats and online exploitation. While movies often portray cyber criminals as edgy, sometimes well-dressed, sometimes slovenly individuals, or hodgepodge collections of misfits, in reality much of today's cybercrime is run like a day-in, day-out business with management structures, standard operating procedures, and motivated employees all looking to advance their careers. Cybercrime is a lucrative industry that continually is developing new and clever ways to target, exploit and steal from millions of honest individuals, legitimate companies, and other marks every single day. So, what should you do? Comprehensive cyber security doesn't happen overnight (usually), but the good news is that taking the actionable steps outlined in this guide will rapidly and cumulatively put you in a more secure, better prepared position to live your life, protect those you care about, and manage your career safely. Included throughout the book are screenshots, graphics and other visuals to provide a clearer picture of instructions, websites and apps that you may consider using. The intention is to make the cyber security steps you personally take less intimidating, more transparent, and more efficient. You'll know what to expect beyond the pages of this book.