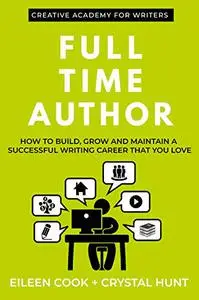 Full Time Author: How to build, grow and maintain a successful writing career that you love (Creative Academy Guides for Writers Book 5) by Eileen Cook
English | January 18, 2021 | ASIN: B08PCBNMFL | 500 pages | True EPUB | 0.58 MB
How many people have told you that your dream of being a full-time writer is impossible? They're wrong.
Whether you are just getting started or are an experienced author, we're here to help you overcome the obstacles in your path—and make your publishing dreams a reality.
Unsure how to turn your published book(s) into an actual career?
Been knocked around by the publishing industry and feeling disheartened?
Overwhelmed by all the options and not sure what to do next to level up?
Two career authors—one traditional and one indie—with over 50 published books and 30 years of experience between them, team up to provide you with the complete set of puzzle pieces so you can craft your ideal author life.
If you are looking for a quick fix or magic button this isn't the book for you. Building a career strong enough to last a lifetime won't happen overnight.
But if you're ready to build yourself a personalized roadmap to making enough money from your writing to pay your bills, then you're in the right place. This book gives you the tools and information you need to clarify your dream and create practical steps to turn that dream into a career that you can build, grow and maintain over time—without sacrificing your health, relationships or happiness along the way.