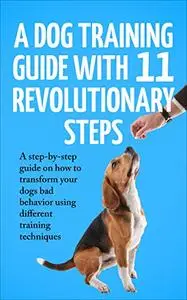 A Dog training Guide with 11 Revolutionary Steps: A step-by-step guide on how to transform your dog's bad behavior using different training techniques by Maria Garcia
English | 2020 | ASIN : B08PNHH7VT | 79 pages | AZW/EPUB | 2.21 MB
Did you just get a new dog? Or did you just realize you need to start training your existing dog? Well, which ever it may be, discover a new and positive way of training your dog.
Training your dog should not be a difficult task. Learn the benefits of positive reinforcement and the secrets of a well behaved dog. I'm sure there are moments where you feel like yelling at your dog for misbehaving, or for not listening to you but let me tell you, that is not the right thing to do. Yelling at your dog will only make the situation worst. You don't want to create stress and anxiety for your dog. It's how you communicate with your dog what makes the training successful. This book will teach you how to communicate effectively with your dog so you can build a positive relationship with your furry friend. Learn how to train your dog step-by-step using different training techniques.
Here Is A Glimpse Of What You'll Learn…
what tone of voice to use while training
how to control your dogs aggression
how to socialize your dog
essential commands
how to keep your dog from running away
potty training
and much more
download A DOG TRAINING GUIDE WITH 11 REVOLUTIONARY STEPS now